Schedule
EVENT TITLE
DATE
STATUS
Application Deadline
21 Feb 22
Application Closed Now
Aptitude Test
24 Feb 22
1 Mar 22
Aptitude Test Conducted
Payment for Course
28 Feb 22
5 Mar 22
Discount Coupons Issued
Batch Starts
1 Mar 22
6 Mar 22
Batch Started
Batch Ends
28 Mar 22
9 Apr 22
Interviews Done
This batch is completed and over.
Jumpstart Your Cyber Security Career
The EHF Batch 22-01 of Ethical Hacking Foundation Training is created with an objective to train, enable & prepare fresh technology and science graduates for entry level jobs related to Ethical Hacking Skillset.
IBSA & qSEAp Jointly Present
IBSA has partnered with qSEAp, a growing organization providing Cyber Security services, to design and deliver this course and meet the objective of talent identification and nurturing with Ethical Hacking skillset.

At the end of this course, the students will be eligible to appear in the interview conducted by QSEAP. Successful candidates in the interview may get internship or job offer from QSEAP.

Know more about qSEAp, click on qSEAp logo here.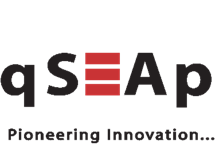 Curriculum
This live batch on Ethical Hacking Foundation Training is linked to the self study course Ethical Hacking Foundation or EHF.

As part of this training, you'll get access to EHF Self Study course also, at no additional cost.

To know more about the EHF Self Study Course and its curriculum, click on the button below.
Pedagogy
The training includes –
1) Access to EHF Online Self Study Course on IBSA including Quiz, free of cost. No need to make payment for this.
2) Access to EHF Online Live Batch Course on IBSA including live sessions recording and assignments
3) Minimum 4 Live Sessions of approx. 2 hours each over weekends on EHF Revision and Q/A
4) Lab Exercise and Presentation during live sessions
5) Interview Preparation during live sessions

Please Note: FULL ATTENDANCE in Live Sessions and Completing Self Study Course as per our schedule are Mandatory to pass the training successfully and reach interview round.
Enrollment Process

This batch has limited seats and hence preference will be given on First Come First Serve basis.

Selection process for the Ethical Hacking Foundation Training batch includes following steps –
1) Submit Resume through Application Form for Academic Filtering – Apply through a form and share your resume in PDF format. IBSA will filter based upon the educational credentials.
NOTE: Science and Technology Graduation with 0-3 years of any experience is the preference for selection criteria.
2) Appear in the Aptitude Test – After crossing Academic Filtering round, appear in the online aptitude test. This will enable you to enroll in the main batch. Those who clear the aptitude test, will get 90% discount on the MRP.
3) Make Payment and Enroll in the Batch – Once you have taken the aptitude test, you get eligible to enroll for the batch and take the training.
Fees & Discount
You need to submit your resume through the form (link at the end of this page).
Once your resume is accepted by us, we would send you the link for Aptitude Test as per the schedule.

If you clear the Aptitude Test, you get heavy discount of 90% on the MRP to join this batch.
However, even if you don't clear the Aptitude Test, you can still join the batch by paying the full amount.

The link for payment will be enabled after we conduct the Aptitude Test.

Please Note: Appearance in Aptitude Test is MANDATORY to join the batch.
This Batch is Completed and Over
This batch has been completed successfully.
Total students enrolled = 19
Interviews conducted = 13
Offers rolled out so far = 4
More under process to candidates with notice periods

About the Instructors
Oh, bother! No topics were found here.
You must be logged in to create new topics.